Experience the Holy Land in a New Way!
The Church of the Holy Sepulcher is just one of the places you will visit with Living Stones Pilgrimages. The Church of the Holy Sepulcher is among the holiest sites in Christendom, enshrining the place of Christ's crucifixion, His tomb, and the stone on which His lifeless body was laid. There is much history behind this famous cathedral. You will learn and experience its contested history and have the opportunity to pray in its chapels alongside an international community of pilgrims who gather in this sacred space with the same purpose in mind and heart: increasing their faith in the Savior of the world!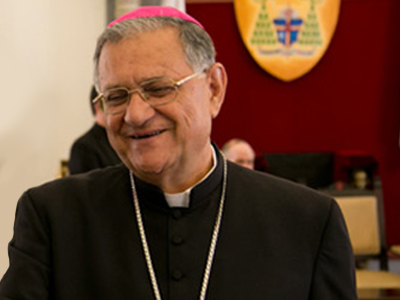 H.B. Patriarch Fouad Twal
Welcome My Dear Friends!

I invite you to be the guest of the Church in the Holy Land and to be in communion with the Palestinian Christians of the Holy Land. Share in their reality and their joys, reflect and consider your opportunity to serve your Mother Church. There is no substitute for a real tangible experience. Come, see and enjoy! A pilgrimage is a great experience, but what it is most important is that we encourage a pilgrimage where you can meet, break bread and visit the home of one of the Living Stones, the children of the Bible. I await your visit!"
Start Planning Your Pilgrimage Now!
Voice of the Pilgrims
A wonderful balance of Living and ancient stones and a great mix of fellowship, worship, and time with ministry leaders. We learned where Christ walked, but we also learned better how Christ walked: in caring for the victims of injustice and loving our enemies.

I have traveled to the Holy Land three times. HCEF surpasses any group, any travel experience that I have ever known. Your selflessness and generosity can only come from a deep spiritual conviction, and Palestinian Christians are blessed through your efforts.

Hospitality is among the Palestinians' gifts! Meals at the HCEF Inn in Bethlehem were wonderful and certainly facilitated bonding for our group! Personnel were always helpful.

It was the Christian Palestinians who made a lasting impression on me. Their strong faith in God; hope in the midst of what appears to be a hopeless situation; love for people of all faiths; gracious hospitality and kindness; and, resilience under extremely hideous conditions loudly proclaim the Gospel. They live the Gospel message every day. They are truly the 'Living Stones' of our faith!
29 May 2016, Maghdouche, Lebanon   Final Report Introduction A Roundtable on Religious Tourism was hosted in Maghdouche, Lebanon on 29 May 2016. The ...
Bethlehem, Palestine – On March 23rd, 2016, HCEF and the United Nations World Tourism Organization (UNWTO) signed a partnership agreement to bolster...